Free personalisation's on every greeting card
Here at Looney Lizard I believe it is important to provide my customers with the flexibility to customise any card design with your personalised sentiments, making your special card all the more meaningful. That is one of the key reasons why I offer free personalisation's on every handmade greeting card! It is all about those little extra touches.
The text displayed on every one of my cards is purely for illustrative purposes, please feel free to use any card design for any occasion by simply personalising the text anyway you wish.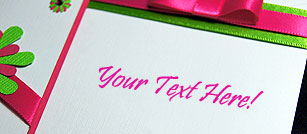 Please use the topic quick links below:
Personalising the front greeting
It doesn't just have to be their name, you can add a nickname, age, date of birth, weight (only advisable on baby cards, someone might not appreciate it on their birthday card!) anything at all at long as it's within the allowed character limit.
Personalising the insert message
All of my handmade cards like most greeting cards are left blank inside for your own personal message. However, if you would like to include an insert message, poem or verse then please enter your desired content in the personalisation box on the product page.
How do I personalise my card?

To personalise your card simply complete the card sentiments section on the product page. Just tick the relevant box to personalise and a text box will appear for you to write your personal greeting in. If you choose not to personalise your card then leave the box un-ticked for the standard message. You can also write "blank" in the box to instruct me to leave out the message altogether.
What if I need to exceed the character limit?
The front greeting limit is set to try and ensure that personalised messages do not overcrowd or impede the beauty of the card design; whereas the insert greeting has plenty of space to accomodate much longer messages. If you would like more characters or would like to add a special poem or message that the form will not allow, then please contact me to discuss your requirements. Many of my customers contact me requesting slight tweaks or modifications that I happy to do as part of the service.
How will you personalise my card?
Appearance
Unless otherwise instructed I will always inherit any fonts, font styles and colours from the chosen card design and apply this to your personalisation's.
Layout - Front
The layout of the text on the front of the card will always closely follow the composition of the card design unless otherwise instructed. Due to a designs composition, the space available for extended personalisation's beyond the character limit may be restricted.
Layout - Insert
The insert text will also inherit the colours and fonts from the design theme to match. I will layout the text centrally aligned and as close as possible to the format entered in the personalisation box. However, in some situations I might modify the format a little to ensure that it looks its best.

Any issues that might arise
If there are any problems with personalised content or I have any questions I will contact you via email asking how you wish to proceed. Therefore please provide an active email account.
Use of fonts
Some of the fonts I use display all of the text in capital letters; this is native to the style of the font. So in some cases where you will have typed your message in lowercase it will appear in capitals. Likewise with highly scripted fonts, which are not designed to be displayed all in capitals, should you type your message all in uppercase, it will be displayed as the font permits (normal case) to ensure it looks its best. Again in the case of highly scripted fonts which might be suitable for the front, but might not work well on the insert message, I will use an appropriate substitute to ensure legibility.
Important notes
When writing your personalisation's please take extra care as the wording you write is the exact wording which will be used on the card, so any typos or spelling errors will not be the responsibility of Looney Lizard Creations.

PLEASE DO NOT leave any instructions or wording which you do not wish to appear on the card in these boxes. If you wish to leave us a comment about your personalisations, then please enter in the comments box during the checkout process.